Hawkes Bay Bike & Cycle Trails
Choose from our range of planned trails or design your own.
Trail 1
Te Awanga Winery and Café Jaunt
Trail 2
Explore the Tukituki Valley
Trail 3
The 'Good Fun Bike Ride'
Trail 4
River Road to Perfume Point
Trail 5
Mosey around the Bridge Pa Triangle Wine District. Hawkes' Bay Wine Trails and wineries right here!
Trail 6
Conquer Te Mata Peak
Trail 7
Let us plan your your Cycling Experience: 2, 3 or 4 day cycling tours of Hawke's Bay Trails:accomodation and meals planned for you!
We can personalise each trail to suit your requirements or provide maps for a self-guided excursion. We also offer a pick-up service in case you have too much fun.
View Hawkes Bay cycle trails MAP
---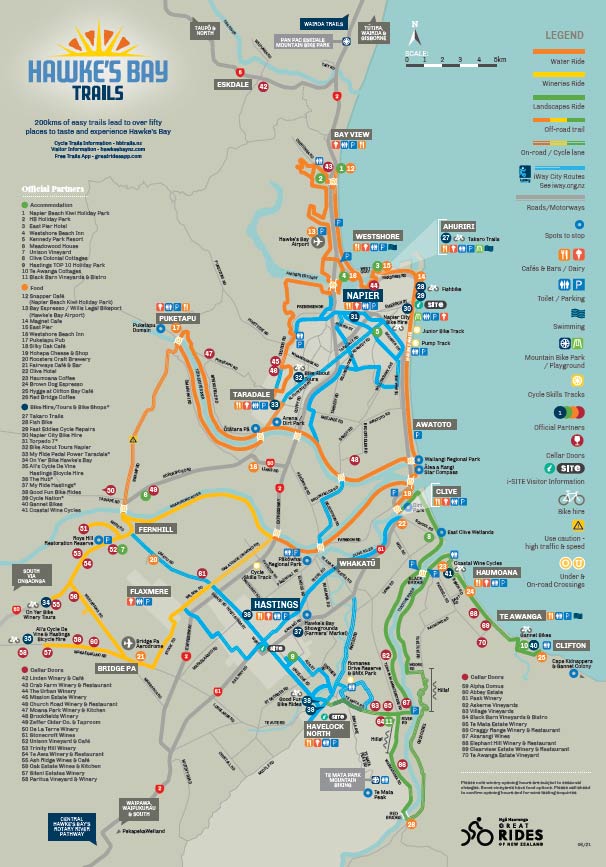 Trail 1: Te Awanga Winery and Café Jaunt (Mostly Trail)
Approximate Distance: 18 km one-way, choose your return route. Our most popular ride, great for families too because its nearly all flat.
Leaving Havelock North ride out Te Mata Road past the three local wineries just on the town boundary (Trail 2) to the River Road Cycleway, then along the Tukituki Valley out to Black Bridge near Haumoana. Absorb the spectacular river mouth scenery then continue along the beautiful new coastal route to discover Beach House Wines, Elephant Hill, Clearview Estate and Te Awanga wineries, or ride on to Clifton Bay Café. Sample the wines, have a bite to eat, and if you enjoy yourself too much, you can ask us to pick you up to bring you home.
Wow, Malcolm, this is a fabulous ride, all the family loved it and a great lunch at Clearview. Thanks for picking us up. Mark J. Sussex, England
--------------------------------
Trail 2: Explore the Tukituki Valley (Part Road / Part Trail)
This ride forms the basis of the to be completed National Cycleway- 'Landscapes' Ride and is a real gem with wonderful vista's. Depart Havelock North along scenic Te Mata Road passing Red Barrell, BlackBarn Vineyards & Te Mata Estate Wineries and Tuki Cafe along the way. Take in the striking Te Mata Peak from both sides. Stop in at the beautiful Craggy Range Winery at the perfect time for a break. Absorb the magnificence of the Tukituki River as it winds its way through beautiful farmlands to Moore Road where you rejoin the river trail out to the coast at Haumoana. Then ride the River Road cycleway to make your way back to Havelock North.
Thanks Malcolm the bikes and your service was great. Thanks heaps Neil M, Wellington
----------------------------------------------------------------------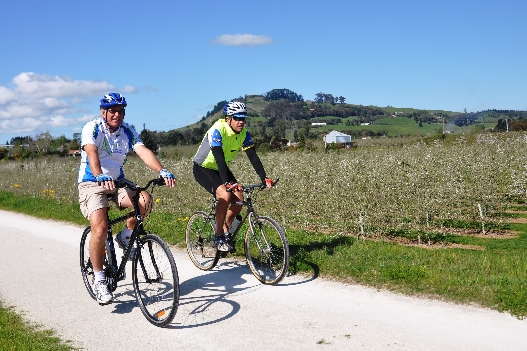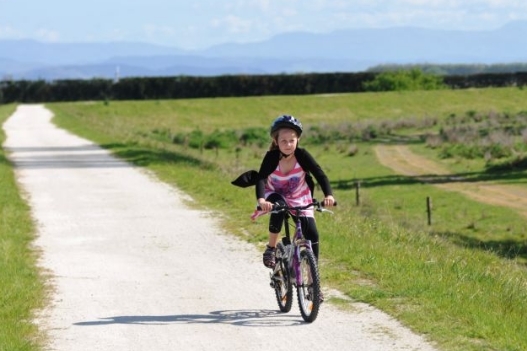 Trail 3: The 'Good Fun Bike Ride'
Approximate Distance: 30km round trip (mostly trail some road cycleway. Take all day for a picnic!)
This is a beautiful ride because it takes in the Coastal Wetlands and the Clive River. Leaving Havelock North center, ride on the new i-Way into Hastings (OK, deviate into Vidals Winery for a first taste if you must!) linking onto the new cycle way out to Clive. Over the new wooden 'Golden Gate' bridge through Whakatu and along the Clive River cycle trail. Coffee break here! Carry on out to the river mouth then wheel right riding along the beautiful coastal wetlands pathway taking in glorious views of Cape Kidnappers (great picnic spot!) before heading back in towards the Black Bridge junction. You're now on the cycle trail along the Tukituki river back to River Road with magnificent views of Te Mata Peak in front before heading back into Havelock North. Along Te Mata Road ride past Te Mata Estate, BlackBarn and Red Barrell wineries if you can, before finishing in the Village center at any of the cafe's or bars of your choosing. Thats good fun!
------------------------------------------------


Trail 4: River Road to Perfume Point (Trail Riding)
Approximate Distance: 35 km one-way
This trail is great from either direction – or do the return! Cruise along the Tukituki Valley cycleway out to the magnificent Hawke Bay coastline with vast ocean views from Cape Kidnappers to Wairoa. You ride on the Rotary Cycleway nearly all the way! Experience Art Deco Napier and the cafes and restaurants of the Iron Pot inner harbour, or finish up at the restaurants and bars of Havelock North.
Thank you Malcolm for the great time in Hawke´s Bay. My bike was fantastic, everybody was jealous on this fabulous bike!! I really enjoyed cycling along the coast and to the wineries and with the provided map it was not a problem at all to find the right way. Thanks also for the tour to the Te Mata Peak and your story-telling about the history of the region, that was really interesting! I will definitely call you when I am in this region. Christina, Stuttgart, Germany.
-------------------------------------------------------------------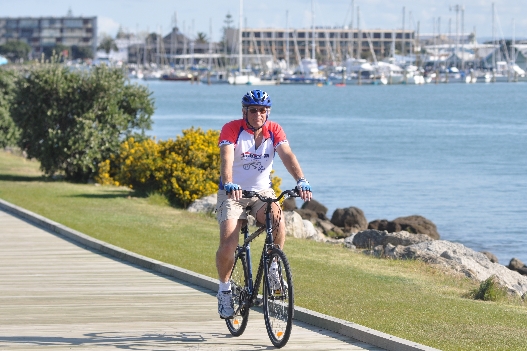 Trail 5: Mosey around the Bridge Pa Triangle Wine District
Hawke's Bay Wine Trails and wineries.
Approximate Distance: as long or short as you want.....anything's possible in the sun!
Sample Hawke's Bay wineries, there are 11 different wineries represented within 18km of each other! Our bikes are based in Havelock North 11kms from the start of this trail and we can transport you to the start on request.
Terrain is flat and within 18km or less you can stop at Abbey Cellars, Alpha Domus, Sileni Estates, Ngatarawa Wines, Ash Ridge, Te Awa Winery, Trinity Hill Wines, Unison Vineyard and Stoneycroft Wines all the wineries from this world renowned wine producing region. You are encouraged to purchase Hawke's Bay wines to take home after your wine tasting and we offer a complimentary wine pick-up service from wineries for purchases made for bike-hire tourists. Wineries also offer door-to-door national and international courier services.
Bookings essential! Bike pick-up time by arrangement during week days, usually 9am, returns by 5pm. Half day by negotiation. Holiday season times December/January every day/all day. Please note: Wineries may charge for wine tasting with cost varying between wineries. This charge is not included in the bike hireage charge. You must be over 18 years of age. Note: Plenty of all day parking at Triangle Cellars pick up point.
Hi Malcolm, I just wanted to write a note to say thank you for organising the bikes for our stag/hen's do. Everyone commented on how enjoyable the afternoon was, with the pick of the wineries being Salvare Estate and Ash Ridge. I wouldn't hesitate to recommend your company to any others thinking of hiring bikes in Hawke's Bay. Thanks again, Anita
Read about this trail experience here!   HB Today newspaper article
-----------------------------------------------------------------------
Trail 6: Conquer Te Mata Peak (Road Cycling)
Approximate Distance: 7.65 km one-way. Want a real challenge? Not for the faint-hearted but the rewarding view is amazing!
Te Mata Peak stands above Havelock North with commanding views across the Heretaunga Plains out to the Ruahine Ranges with snow-capped Mt Ruapehu. The awe-inspiring views make this trail a must for any serious rider wanting to experience the best of Hawke's Bay. Take your time and a picnic. It's a tough ride up, but you'll never forget the elation you'll feel when you conquer Hawke's Bay's iconic peak. You need to be fit!
------------------------------------------------------------------------

Trail 7: Customise Your Adventure, Let us plan your riding holiday!
Too busy to think about where to go or what to see? No time to plan? Let us plan for your group, the best routes and sights. There's so much to do in Hawke's Bay and we know where to go, where to eat and where to stay. Let us plan your holiday and treat yourself to unforgettable riding, great accomodation and outstanding cuisine
A great way to enjoy the weather and see the sights - I'll be recommending this to my friends and family Rachel B, Napier
-----------------------------------------------------------------