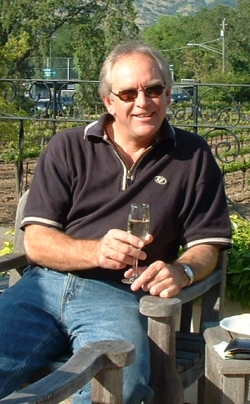 Malcolm Eves is passionate about pedalling – and living in Hawke's Bay. It was only natural that he would combine these passions to form Good Fun Bike Rides.
The name says it all!!! Malc is into having Good Fun himself and it's only natural that he wants customers to have Good Fun too and almost without fail this is exactly what happens when customers hire through Good Fun Bike Rides from either location. With 30 new or near new bikes to choose from PLUS the add-ons you need for families (trailer bikes for kids to ride along behind mum or dad and child seats for the little ones) Good Fun Bike Rides is equiped to make your ride on the Hawke's Bay cycle trails a fun experience for you.
Having travelled extensively, Malcolm knows what to look for in a great cycling holiday. He has followed Le Tour de France three times. He has also cycled in the United States, Britain, Ireland, and many other European destinations. Click here to check out Malcolm's latest cycling 'exploits' on the inaugural "Tour of New Zealand".
A well known personality in Havelock North, Malcolm has seen the village grow into a vibrant town and popular tourist destination. His knowledge of cycling and Hawke's Bay has helped him to identify some fantastic cycling opportunities – the equal of any great trail around the world or any winery district you can think of. Good Fun Bike Rides is here to share them with you.
We source our bikes, bike equipment and accessories from local Havelock North retail bike shop Revolution Bikes sharing space with them at 8 Donnelly Street, Havelock North. Hilton Taylor and his merry team take care of bike servicing keeping bikes in tip-top condition. All our bikes have gears - up to 24 gears if you are getting 'puffed', but riding on the trails is a breeze, mostly all flat with the odd winery spaced just right to interrupt anything too serious! With comfortable seats and some bikes with suspension you won't need anything else to have a Good Fun Bike Ride. Check your bike out too at Revolution Bikes, Havelock North.
About Us